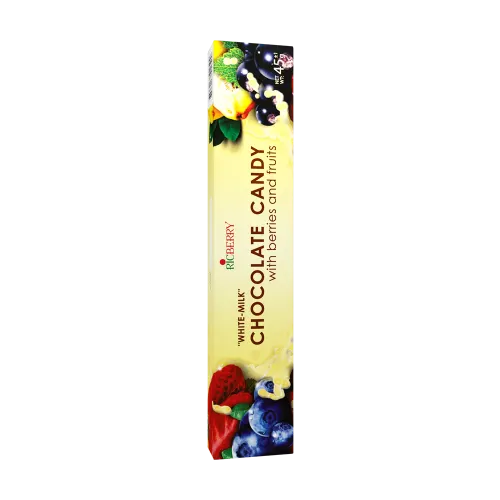 Additional photos (click to view):
Chocolate,
Without Gluten,
Special Foods,
Sweets and snacks
"White-Milk" Chocolate Candy with Berries and Fruits (3x15g)
Specially created RicBerry "White-Milk" chocolates are creamy sweet and sour, with a light cocoa hue! These chocolates are a source of calcium and contain a wide range of berries and fruits (blackcurrants, raspberries, blueberries, aloes, cranberries, pumpkins, quinces), which are the main source of valuable vitamins and minerals found in this product. A product that provides you with all of the benefits of fresh berries and fruits, throughout the year. Enjoy the taste and strengthen your body whenever you feel like it!
More than just chocolate…
100g of product contains:
Vitamin C - 12.6mg (16% NRV)
Ca (calcium) - 149mg (19% NRV)
Omega3 - 0.32g (16% NRV)
Protein - 5.3 g
Fiber - 7.2 g
! Rich source of fiber
Find out more:
RicBerry brand chocolates have their own, special character! Its main difference is - a philosophy, the aim of which is certainly not to create another delicious sweet, but to create a sweet, tasty and vitamin-rich supplement for dietary diversification, energy intake and, of course - for special festive occasions!
A wide selection that will fit every taste - from bitter black to creamy white, melt-in-your-mouth chocolate, with juicy fruit and berry piece content of up to 70%! 100% delicious and natural pleasure of taste - a chocolate bar that will not disappoint…
The main value of RicBerry chocolate is contained within the generously (up to 70%) added berries and fruits. This is exactly what is needed for our chocolates to be able to fulfill their intended function - to provide the body with various valuable micronutrients. These chocolates are also very filling, so they are a great source of energy, just a small piece of this chocolate will make you feel more productive at work. Different types of chocolate, as well as packaging is available on our website: 45g bars, 3x15g candy sets and, individual 15g candy bars. This product does not contain gluten and dark chocolate is especially suitable for vegans and vegetarians.
Our chocolates contain only natural ingredients, without preservatives or added colorants, because the main "natural colorants" of our chocolate are the biological pigments of berries. There are 4 main groups of pigments: CAROTENOIDS (red, yellow and orange pigments), ANTHOCYANINS (blue, red, purple pigments, depending on the pH of the environment). As the mix of fruits and berries in these chocolates is diverse, the chocolates are also very colorful. From natural rhubarb green to cranberry dark-red, from plum and blackcurrant purple to blueberry black. All of this gets a special sparkle from the amber-colored quinces and pumpkins … and don't forget strawberries, raspberries and other goodies!
Total for 1 item: €1.83